Elevate – Commercial Entry Door (Pivot)
Commercial Entry Door (Pivot)
Commercial | Series 50
Bold aluminium pivot doors make a truly impressive architectural statement.
Pivot doors are an ideal choice for high end architectural homes or commercial building projects. Incorporating strong Elevate commercial door panels for durability and style.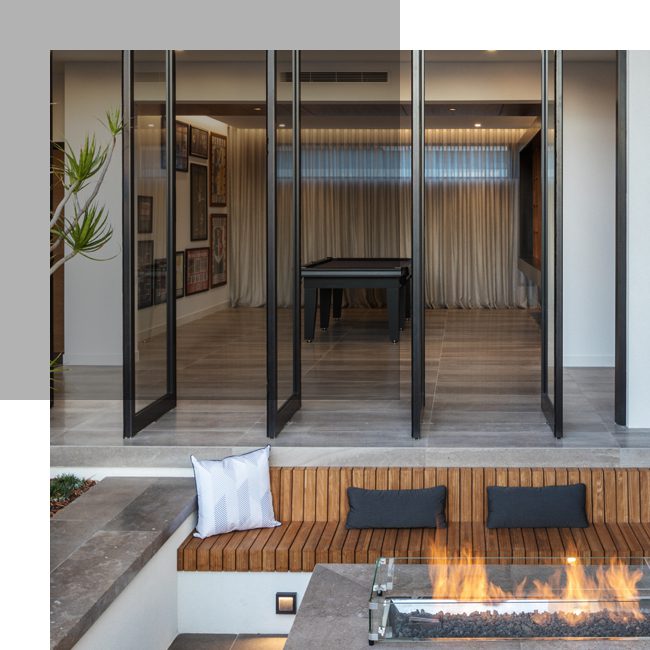 Series 50 doors with 50mm thick stiles are significantly stronger than industry standard 44mm thick doors.
50mm thick doors are ideal for overheight doors.
Series 50 doors have removable snap-on glazing beads on horizontals and wraparound stiles.
Stile to rail joint is securely fixed with custom heavy duty spigot assembly.
Horizontal rails can be fitted with square or splayed beads.
When configured as sliding panels, heavy duty bottom rolling running gear or alternative Centor E3 top-hung rollers deliver smooth reliable operation.
19mm high glazing beads ensure good glass gets bite.
Can be security glazed with captive external glazing wedge.
Midrail options 50mm, 115mm, 125mm and 200mm deep.
Rebated French meeting stiles option available.
We have been using SV Glass now for 7 years. Sandro and the team have always been easy to talk to, always open to ideas and great at Architect solutions. Installation is on time and done well.
– James Dalton, Interstruct Building
Altitude Apartment Sliding Door
The Altitude Sliding Door has been specifically designed with the latest
trends in architecture in mind. The door allows architects and designers the
ability to achieve expansive openings without the need to compromise on
performance or aesthetics.
Specifying the Alspec Altitude Sliding Door ensures the client receives a
stylish, high performance product.Designed by Alspec to meet the extremes of the Australian environment,
the Altitude Apartment Sliding Door is the premier choice by architects, builders,
homeowners and fabricators when looking for a great sliding door.