The S1E Eco-Screen™ from Centor is a revolutionary product providing eco-friendly retractable insect screening and solar control with fingertip operation. This product is the evolution of Centor's award-winning S1 Insect Screen.
S1E allows homeowners to have complete control of their living environment. Used singly or paired together S1E is ready for use whatever the season or time of day. S1E retracts horizontally and discreetly into its frame when not in use – a revolutionary solution for those who refuse to compromise on style. For a single function system up to 3.9m wide choose an insect screen to 3.2m high or a sun filter blind to 2.45m high. Create a multi-function system selecting both fabrics for a two-in-one screening solution for openings up to 3.9m wide and 2.45m high. The insect screen and sun filter fabrics prevent insects entering the home and provide solar control.
For larger openings between 3.9m wide and 7.6m wide select a double system, choosing an insect screen up to 3.2m high or sun filter blind up to 2.45m high. The solar control blind doubles as a projection screen for either indoor or outdoor viewing. Mechanisms within the system enable the blind to be left partially open, allowing visitors to pass through the door way without the hassle of opening and closing the blind.
The considered design of the S1E Eco-Screen™ complements any large opening. Available in a natural anodised finish, custom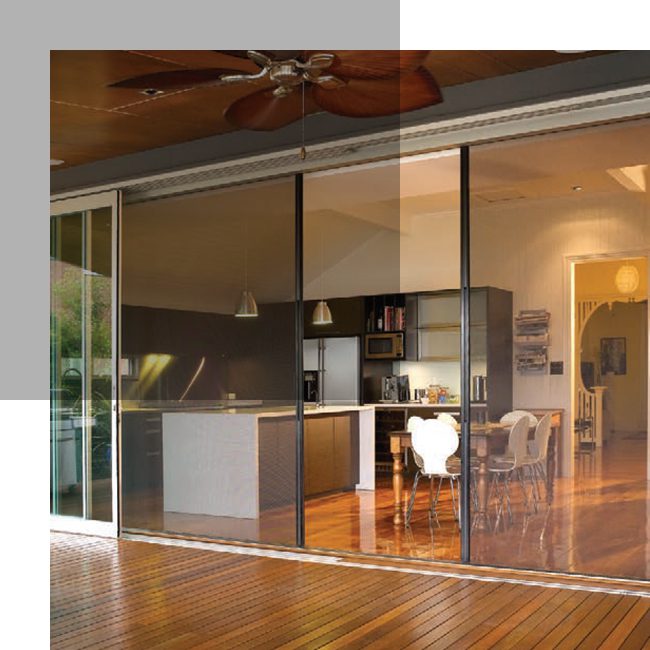 A range of Centor innovations ensure the whole package functions simply and smoothly.
Load Balancing Technology™
Load Balancing Technology™ (LBT™) (patent pending) allows for the effortless fingertip control synonymous with Centor products. With no crude spring-loading to fight against, the screen's lead-stile remains firmly in any chosen position until further pressure is applied. 
Tight Technology™
Tight Technology™ manufacturing techniques ensure control of the horizontal edges of the screen so they remain straight and tight across the widest spans.
Shock absorption
In the majority of cases the shock absorption mechanism prevents system damage by redirecting impact away from the screen.
Self-feeding mechanism
Should winds blow the screen out of the top or bottom channels the fabric will self-feed back onto the roll when retracted.
Materials
S1E is manufactured in a combination of aluminium, stainless steel and reinforced engineering polymers. The blind is available in sun filter fabric. The tough PVC-coated polyester screen mesh
Testing
The S1E Eco-Screen™ has undergone cyclic testing to 400,000 operations in a laboratory and extensively exposed to dust, mud, sand and corrosive atmosphere to ensure it is a product for the real world. It has withstood impact testing with a 17kg punching bag 100 times and considerable pushing, poking and prodding to simulate real life usage
We have been using SV Glass now for 7 years. Sandro and the team have always been easy to talk to, always open to ideas and great at Architect solutions. Installation is on time and done well.
– James Dalton, Interstruct Building
book your showroom appointment today
Altitude Apartment Sliding Door
The Altitude Sliding Door has been specifically designed with the latest
trends in architecture in mind. The door allows architects and designers the
ability to achieve expansive openings without the need to compromise on
performance or aesthetics.
Specifying the Alspec Altitude Sliding Door ensures the client receives a
stylish, high performance product.Designed by Alspec to meet the extremes of the Australian environment,
the Altitude Apartment Sliding Door is the premier choice by architects, builders,
homeowners and fabricators when looking for a great sliding door.