Having a residence fitted with quality doors adds privacy, elegance, and a sense of structure to your Perth home. At SV Glass, we have a reputation for high-quality Perth doors and craftsmanship. We manufacture our products to ensure they are well built and durable, including all moving parts.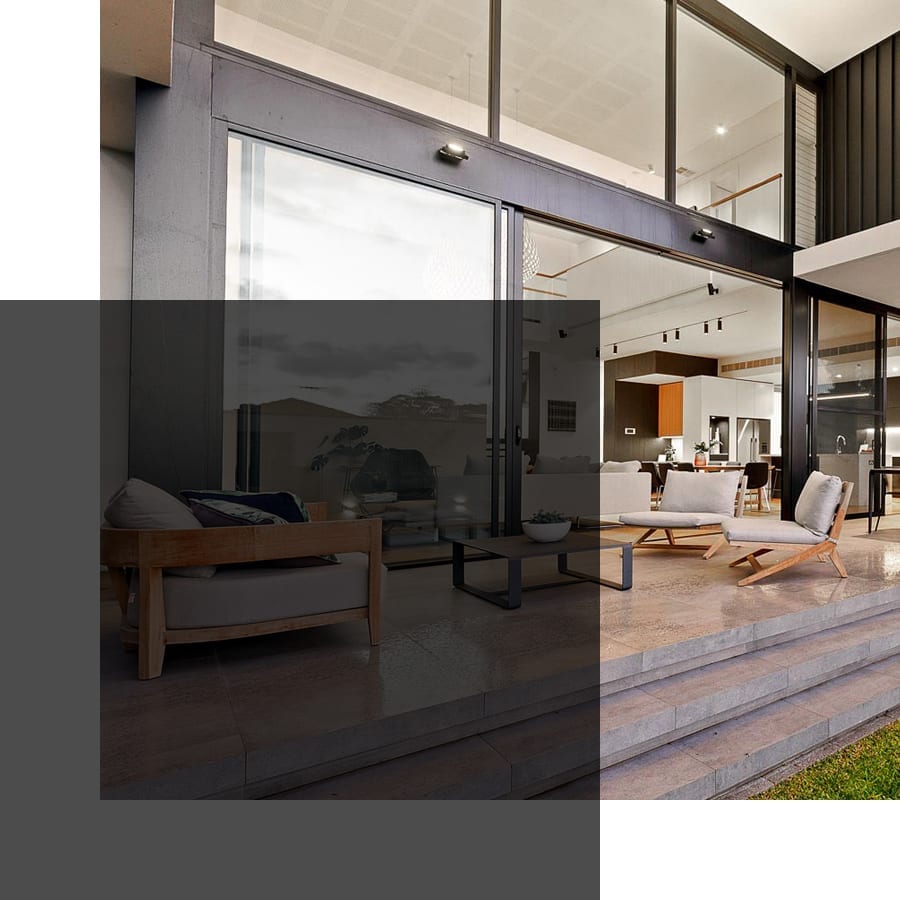 Sliding doors & stacking doors
The SV Glass range of sliding and stacking doors is among WA's favourite doors for both residents and builders alike. The durability and quality hardware and the sturdy manufacture of the doors will ensure you are safe and have a reliable door.
Bi-fold doors
Whether you are looking to create more space or update the look and feel of your home, we make the process nice and straightforward. Our quality assurance policy ensures that you will be left with a bi-fold door that stands the test of time. There is something for every home in Perth with endless customizable options, high-end security screens, and multiple glass upgrade options.
Hinged doors
The hinged door is a timeless design that is suitable for a myriad of architectural styles. Installing a hinge door within your Perth home is ideal for entry or utility applications.
Commercial doors
Our suite of high-end commercial doors are designed for multiplex buildings and commercial buildings alike. They are intelligently crafted to withstand the needs of large operation buildings and the rigours of day-to-day commercial activities. With sleek lines, superior strength and durability – SV Glass is an excellent option for commercial doors.
High Performance Sliding Door
Commercial Entry Door (Pivot)
Viewmaster Bi-Fold Door (Top)
Foldmaster Bi-Fold Door (Bottom)
Commercial Entry Door (Hinged)
Get in touch for an obligation-free consultation for your doors. 
Whether you are thinking of building or renovating your home, SV Glass can assist you through this exciting journey. If you are after some inspiration or need help with the installation process, our team will help. 
With over 20 years of experience and a reputation for our high quality and second-to-none craftsmanship, SV Glass' extensive product range will complete your residence. Come in and have a chat about how we can cater to your unique requirements. 
The genuine quality of their product , their uncompromising after-sales support, and their hard working application on every project, have made SV Glass a true trading partner
- Anthony Pillinger, SWELL HOMES
Thank you for the great work done. We are very happy with the new look to a tired old room. Please thank Blake for the his excellent work and professionalism.
Altitude Apartment Sliding Door
The Altitude Sliding Door has been specifically designed with the latest
trends in architecture in mind. The door allows architects and designers the
ability to achieve expansive openings without the need to compromise on
performance or aesthetics.
Specifying the Alspec Altitude Sliding Door ensures the client receives a
stylish, high performance product.Designed by Alspec to meet the extremes of the Australian environment,
the Altitude Apartment Sliding Door is the premier choice by architects, builders,
homeowners and fabricators when looking for a great sliding door.